Barcelona furniture storage
Furniture storage in Barcelona
If you have to travel, if you rent your apartment or to store furniture and documentation that you do not need immediately, count on our furniture repository Barcelona. Free space in your home or office by hiring our affordable and affordable furniture storage service.
We have different storage areas according to the type of merchandise to be guarded to guarantee the best protection and conservation of each good. Due to the opening of our new facilities, we offer excellent conditions for storage in 10 and 15 cubic meter containers. Have all the space you need and pay only for the time of occupation.
Guardamuebles
Storage rooms
File Custody
Stock storage
Property Custody
Individual containers
Storage for Individuals and Companies
Storage rooms and furniture repository Barcelona
Installations protected by video surveillance cameras and alarm connected 24 hours a day.
Individual and closed containers to guarantee your security and privacy.
Specific solutions for freelancers and companies with areas of exclusive access and storage of palletized or ground material for delicate or heavy equipment.
Quick access from A-7, AP-7 and public transport at Quatre Camins stop.
File area with access through presence control for the custody of documentation.
Rates adapted to your needs, according to the conditions requested by the client.
We have various materials to improve protection during the storage period: boxes, coat racks, custom covers, bubble wrap, seal, etc.
Easy access with vehicle to loading point, with storage options on the ground floor and first floor.
Adaptable spaces
The Barcelona furniture storage service is designed to store your goods for a certain period of time with full guarantees. We protect, keep and guard your belongings as if they were our own in our facilities designed specifically for this purpose and located in the province of Barcelona.
In our adaptable spaces from 10 cubic meters you can store all those objects that you will not need for a while in a clean, safe and guarded place 24 hours a day. We invite you to visit our facilities so you can check in person where your goods will be stored. We also offer you the option of hiring custom insurance with coverage for the desired value.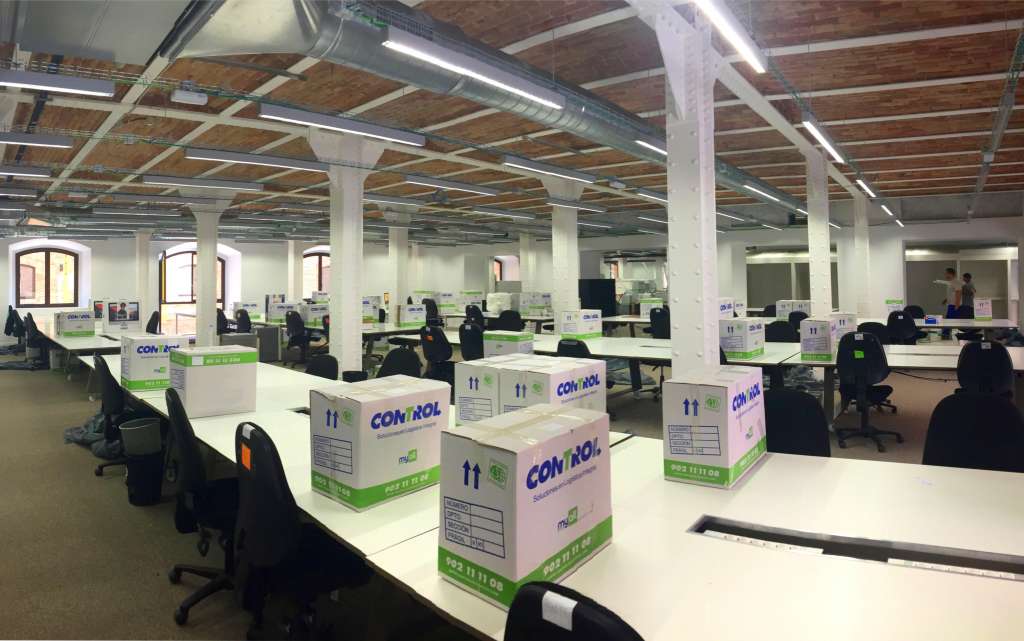 Safety and Quality
We have 3 industrial buildings designed for the perfect conservation of your belongings and appropriate to the current regulations for storage and storage. As an added improvement, the facilities are equipped with the latest advances in active and passive security: video surveillance cameras, control panel assisted by 24-hour security personnel. and fire protection.
We are the first moving and storage company Barcelona that obtained the ISO 9001 Certificate. Quality seal that we maintain since 1999.
Mudanzas Control is also a pioneer in the implementation of the OHSAS 18001: 2007 Management System and the ISO 14001 Standard, which we apply to all our services.
Documentation Custody
The custody of files that is rarely consulted in external stores results in an optimization of spatial use in offices, with all the economic advantages that this entails.
In Control we study your case and make an offer tailored to your needs, avoiding paying a high amount for having extra space to store documentation that is not consulted in daily operations, but that you do need to keep if necessary in the future.
See our file custody plans that we put at your disposal. You will achieve savings in your company's costs and pay only for the space occupied.
A long experience providing documentation storage services and personal eneseres, both for individuals and companies allow us to offer the best solution in each case, either for the file custody service, as for storage and storage in Barcelona.
Custom budgets
Meet your personal advisor
Know the difference of working with Removals Control by the hand of one of our personal advisors. Thanks to the figure of the personal advisor you will be accompanied from the first moment until the end of the move. First during the information and consultation phase, in order to offer you the best conditions for your move and in case of acceptance of our offer, also during the rest of the process until the transfer is finished.
Do not hesitate to request your moving quote, we will gladly assist you.
Do you want more information?